Bruschetta Class at Pandola Learning Center
Bruschetta is an antipasto (starter dish) from Italy. The dish was developed as a classy of salvaging bread that was going stale. In Tuscany it is called fettunta and it is usually served without toppings, especially in November, to taste the first oil of the season. These receipes were shared with our students by the class instructor, Christa Bruno, Charmed Kitchen's executive chef.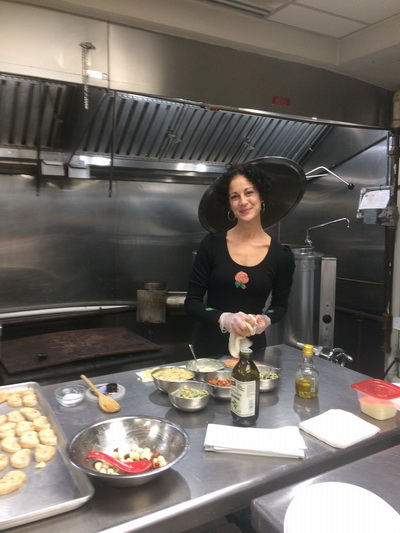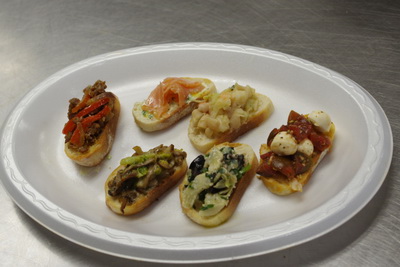 Toppings:
Tomato and Mozzarella:
Chop tomatoes (called twilights )
Add some salt ( when you add salt to tomatoes they bleed , drain and save that liquid to use in other things: dressings drinks etc. )
Toss with pearl mozzarella , Oregano
Add olive oil at the end
Brush the bread ( crusting or baguette) with oil and toast
Put mixture on top and serve
Cannelloni Bean :
Give your cannelloni beans a cold rinse cut and smash slightly
Cook shrimp and cut in small pieces
Add salt, pepper,parsley, chopped center celery and leaves
Add diced red onion,olive oil and red wine vinegar
Place mixture on bread with kick of oil on top
Artichoke:
Slice marinated artichoke hearts
Dice black olives
Add parmigiana cheese and chopped fresh parsley ( lots)
Add the artichoke marinade juice and lemon juice
Top bread
You could also add crab meat if you want
Mushroom:
Tear oyster mushrooms into small pieces, do not cut
Or Slice button or baby mushrooms
Slice 2 broccoli florets
Cook in a pan with a blended oil
Add heavy cream and parmigiana cheese
Salt after cooked
Place on bread
Sausage and peppers :
Take mild sausage out of casing by twisting in center (like an animal balloon) and pull to the end
Cook with: Sliced red bell pepper, garlic,celery ,oil and anchovy
Serve warm
Brush bread with olive oil and cheese
Place warm mixture on bread
Smoked salmon:
Mix Whipped sweet cream butter Parsley ,Chives Salt , pepper and truffle oil
Spread butter mixture on bread
Thinly slice the smoked salmon
Place on buttered bread and top with lemon slice if desired
Serve cold
Many thanks to Christa Bruno, Charmed Kitchen's executive chef, 123 S. Chester Street Baltimore, Maryland 21231 and Gina Metallo lgmetallo at verizon.net for documenting the receipes.
Layout and Design Copyright © 2017 by Thom LaCosta
All Rights Reserved
Vist the Thom Lacosta Site
Site hosted by TLCHOST.NET